Ep.47 Hugh Gilmore: Risk and rewards of psychology in coaching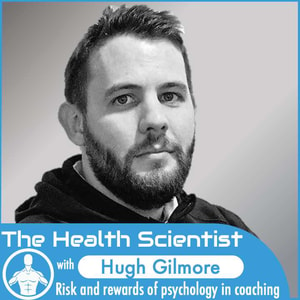 Hugh Gilmore is a BASES accredited sports psychologist who has spent the last 6 years working with Olympians and Paralympians within Great Britain athletics and GB weightlifting. He also has a wealth of experience working within the GAA and Net Ball Northern Ireland. On top of all that, Hugh is also co-host of the Eight Percent Mental podcast.
Harnessing Communication for Performance Enhancement: Online Course
Podium Psychology (Hugh's Website)
In this episode we cover:
Hugh's background in sports science and sports psychology.
What it's like working as a sport's psychologist for GB Athletics and GB Weightlifting
The power of instruction and guidance on sports performance
How does a sport's psychologist help an athlete perform better
The power of reframing a situation to change someone's perspective of it
An introduction to tubing
Why telling people what to do is not a useful approach
How asking questions with Motivational Interviewing helps bring about change
Hugh's thoughts on the increase in interest in psychological techniques in coaching in recent years
The concept that strong medicine can be strong poison: how psychology can also cause harm
Why comprehensive training in psychology is important to make sure practitioners don't cause harm
The danger in assuming that all psychology techniques are benign
The example of using mindfulness in treating eating disorders
What are some contradictions of different psychological techniques
What's the problem with NeuroLinguistic Programming (NLP)
Importance of realizing that no technique works all the time
Is there any way to know if a psychology practitioner is genuinely qualified?