Ep.29 Brian Ó hÁonghusa: Nutrition Q&A, food environment, snacking and slow cooker love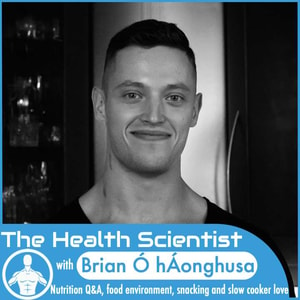 Brian is the head nutritionist and coach with The Fit Clinic which is a bespoke online coaching and consultancy service designed to guide and empower people to adopt positive health and lifestyle changes.
Brian has BSc in human nutrition from University College Dublin, Ireland and has completed both the level 1 and level 2 of the globally acclaimed Precision Nutrition coaching courses.
In his spare time Brian likes to lift weights, compete in Brazilian jiu jitsu, read/study and to get out in nature with his dog, Kodi.
In this episode we cover:
Missing Jiujitsu and social contact during quarantine
Brian's work as Head coach with the Fit Clinic
How Brian got into nutrition and why he decided to not do dietetics
The importance of constantly needing to improves one's skillset as a nutrition professional.
The difference between academic knowledge in nutrition and the helping people to apply it.
Motivational interviewing and its use in behaviour change to help people come up with their own solutions.
Do Tea & Coffee contribute to daily fluid intakes due to their diuretic effect?
How have our cooking and shopping habits changed during the COVID-19 pandemic?
Looking on the bright side of the pandemic: how people can use the time to benefit themselves
The time saving value and convenience of using slow cookers for bulk cooking
The Cult of the Slow Cooker and why you should sign up
Ways to improve the flavour of vegetarian food in the slow cooker
The unexplained disappearance of flour during the pandemic
Using random items as added resistance for home workouts
Ways to maintain muscle while losing weight.
The importance of resistance exercise when dieting
Appropriate rates of weight loss to reduce muscle loss
Thoughts on twice daily training
The importance of recovery and stress management for weight training progression
Ways to reduce snacking when stuck at home during the pandemic
How occupying free time doesn't need to be productive all the time
Better structuring the home food environment to support your goals.