Ep.38 Richie Kirwan: Muscle loss, body-fat types and metabolic health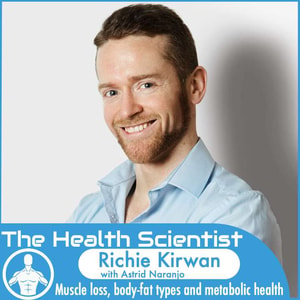 A slightly different podcast this week as I'm the guest.
I was honoured to speak with Astrid Naranjo, otherwise known as the Antidiet_dietitian. We spoke about my PhD research into sarcopenia, sarcopenic obesity, body fat distribution and metabolic health and Astrid was good enough to allow me to share it as a podcast.
Astrid is an Accredited Practicing Dietitian (APD) originally from Venezuela but now practicing in Southport Private Hospital, Australia. Astrid has a masters degree in Nutrition and Dietetic Practice from Bond University, Gold Coast.
In this episode we cover:
What is sarcopenia and when does it start?
What causes muscle loss as we age?
What is anabolic resistance and why do we need more protein as we age?
What is the relationship between muscle loss and conditions like heart disease, diabetes and osteoporosis?
How can sarcopenia lead to an increase in body fat?
Why is sarcopenic obesity such a major public health issue?
How much muscle can people lose from their 20s to their 80s?
Why is the loss of muscle strength even more important?
How can menopause affect muscle loss in women?
Why does fat distribution change in women after menopause and how does it affect health?
What role can HRT play in metabolic health?
What is inflammation, what is its role in disease and why the term used too frequently in popular media?
What can lead to chronic, low-grade inflammation?
How we store fat, fat cells and its role inflammation.
What is dysregulated fat tissue and how can it lead to diabetes and heart disease?
Are all people with a normal body weight healthy and are all people with obesity unhealthy?
What is metabolic healthy obesity and is it common?
Why can some people with normal body weight be metabolically unhealthy?
What is visceral fat?
The importance of lifestyle change for improving metabolic health
What are some of the exercise options for people (especially those with mobility problems) to improve their metabolic health?
Should we argue about whether cardio or resistance exercise is better?
The importance of finding a type of exercise that you love
My research into how COVID-19 lockdown may affect food and physical activity and its effects on sarcopenia