Ep.39 Jenny Rosborough: Food environment, food insecurity and food choices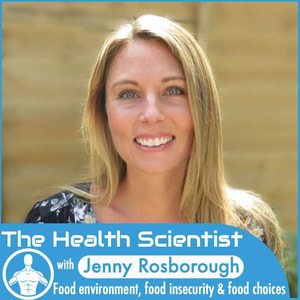 Jenny Rosborough (RNutr) is Head of Nutrition at Jamie Oliver and is Registered with the Association for Nutrition. Jenny works across the Jamie Oliver Group to implement nutrition standards and is particularly passionate about improving the food environment through policy change. She is part of the Expert Advisory Group for Bite Back 2030, a youth-led movement calling for a food system that puts children's health first. Jenny was previously Campaign Manager at Action on Sugar and developed MEND (child weight management) programmes, upskilling health professionals internationally to deliver these. She has an MSc in Nutrition from Kings College London and a BA in English and Sports Science from Loughborough University.
NOTE: THERE WAS A SLIGHT ISSUE WITH MY AUDIO NEAR AT THE START OF THE PODCAST. THIS ONLY LASTS FOR A FEW MINUTES BUT I APOLOGISE FOR THE POOR QUALITY.
In this episode we cover:
Jenny's background in nutrition and her experience in behaviour change programs and food policy
The importance of understanding people's background and barriers when working in food policy change
Learning that not everyone's situation is the same and how that greatly affects food choices
What is the food environment and how does it affect nutrition
How the food industry shapes our palate and therefore our food decisions
The reasons ultraprocessed foods are so commonly marketed
The triple challenge of undernourishment, hidden hunger and obesity
Why government food policies are needed to level the economic playing field for industry so they will comply with changes
The success of the "Sugar-Tax" in the UK and how it has reduced sugar intake from soft drinks
Is there a backlash from people who don't want a nanny state changing their favourite foods?
How industry reformulations due to new government policies have reduced sugar and salt intake without needing the consumers to make any changes.
The role of marketing in influencing people's food decisions
The incredible complexity of societal, economic, psychological and biological factors that go into food choice
The dissonance between the foods/diets promoted on social media and what some people actually have access to
The reality of food insecurity during lockdown and how it is very unequally experienced by different socioeconomic groups
What is holiday hunger experienced by some children when they aren't in school
What are some of the most important issues that the government needs to deal with regarding food policy
Why systemic changes are just as important as public education/awareness campaigns